In fact, the Syndicat Linaro adventure had its roots in the Shining Starr Aristo affair. In 1997, my wife Valérie had brought the famous Dutch new Forest stallion to France, basing him with Alain Janvier then the following year with Sabine Hofferer. His inevitable return to Belgium no doubt inspired some ambitions. Valerie then decided to offer to buy the Dutch Connemara stallion Naughty van Graaf Janshof * with Sabine.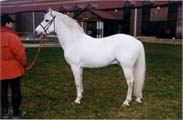 To add to this, since his defeat at the European Championships at Barthahus, Linaro had competed less and less and I remained in regular contact with his German owners. I didn't really believe that the stallion could start over again convincingly at a high level in the sport. One day, towards the end of 1998, after Aristo had spent two successful years at stud, Jean-Marc Lefèvre said to me: "Why don't we try to get the National Stud to buy Linaro? " I negotiated his price with the Rohdes, but the 300,000 FF they were asking, a considerable amount at that time, high enough for a sport pony but even more so for a 'mere' stallion, could explain the lack of interest by the authorities.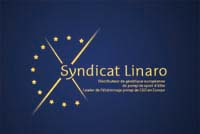 It was in this way, in 1999, that Jean-Marc Lefèvre got together with Sabine Hofferer, Annie Le Brun, Pierre Lambert and Cécile Sparfel (who replaced my wife at the last minute as she decided to pull out of the project) and created the Syndicat Linaro, a company with 100 shares, with each of it's five members holding 20 shares. The organisation acquired Teake It Easy the following year, and then Glenn another year later. Then, the syndicate bought Naughty from my wife and Sabine Hofferer and grew rapidly, year on year. Cécile Sparfel was unable to participate much in the life of the syndicate, which she had joined to please me and to lessen my disappointment at my wife pulling out, so I represented her at the General Assemblies and was therefore kept up to speed with all goings on….Thanks to the fact that I was up to date with European sport and breeding news this allowed me to suggest new purchases, which in reality always came from me, and to negotiate them on behalf of the syndicate. Following a conflict of interests between the Syndicat Linaro and Sabine Hofferer's stud, Sabine was compelled to sell her shares and in this way Marine Guérillon-Dorguin joined the group in her place, at the end of 2002. Then much more recently, Cécile, Annie and Pierre in turn wished to jump ship and this gave me the chance to join the controlling organisation equally with Jean-Marc and Marine. In the summer of 2009 Marine decided to leave Jean-Marc and I on our own. This business responds perfectly to my thirst to venture into the passionate world of stallions at stud. It is a magnificent success that we could never have anticipated.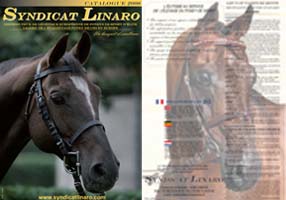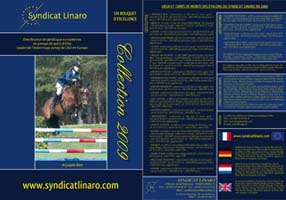 I am still very involved and have invested enormously together with my associates and I hope we will continue to develop, proving more than ever that with imagination and determination we can maintain our values: the search for the best for the good of everyone and the belief that nothing is impossible.

Back up.