Tatiana du Clos, my first
It all started with Tatiana du Close, my very first pony, a dark bay C that I bought when I was 13 years old for 3,800 francs at 6 months, I paid 1,800 francs and my parents paid the remainder. She was a French riding pony by Nudéno du Hardrais out of an OI/ITI/PFS mare that had been bred by my grandparents near to Nantes with their Shetlands Katia and Toupie. I broke her, schooled her and took her out when she was 4 or 5 years old to three show jumping training classes (two places: 1st and 3rd). 

She gave me a lot of trouble, firstly because she had, like her father, her neck on upside down and secondly because she was very mareish, ticklish and sensitive: very few people close to me have been spared her teeth or her rear end! Nevertheless she occupied a number of my nightly dreams and my daydreams and introduced me to the world of the competition pony when I decided to loan her firstly to a young event rider Yvan Scherrer at Avon (77) then, especially, to Mélanie Bonneau with whom she participated in several Championships show jumping in C2 and C1. It was the Bonneaus, André and particularly his very much-missed wife Marie-Ange, who gave me my initiation on the sports pony circuit.
In 1990, my sister and I decided, thanks to a bank loan of around 6,000 francs, to buy Bacman (by Queenly of Ravary, Co and Kel Est Belle, by Loulou) – IPO 149 (01) -,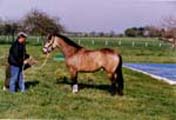 Bacman
a dun Français de Selle riding pony stallion that I had brought back from a hack on Tatiana: he had escaped from his field and followed my mare all the way back to the house! It was in this way that I met the uncle of the breeder, who himself bred a bit: Jacques Rabillard. He had a very, very lovely Français de Selle pony broodmare, Pitchoune (by F' Secateur de Floriège and the same Kel Est Belle), crowned the 2-year-old filly Français de Selle Vice-Champion of France, as well as one of his daughters by Rhon Lyndon, the superb Bertille Kernevy. I worked this filly as a two year old, broke her at three and we loaned her to Mélanie Bonneau with whom she won the 6-year-old D Championships at Fontainebleau.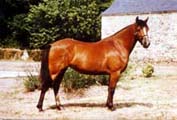 Bertille de Kernevy
Jacques and I decided to breed together, however, the partnership didn't last long. During this time, we bred together, amongst others, Eurystos de Cossé (a son of Ramses Desanghoues and Jongleuse de Cossé by Loulou),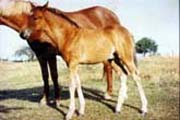 Eurystos de Cossé
approved stallion then sold to the National Stud.  We also bred Ever de Garenne, equally purchased by myself at weaning from Michel Nemes and who I had covered as a three year old by
Hand In Glove
, a cross which would give me
Ira Glove de Florys
from whom came
Mon Nantano de Florys
and
Never Glove de Florys
. 
In the meantime, Elisabeth had loaned us her son's first competition pony Upsy Daisy who gave us the stallion
Galienny d'Haryns
that Jacques took care of at birth. Galienny was a son of the Anglo Jalienny and in those days when the National Stud was still all powerful and when crosses between horses and ponies were not at all widespread, we had to fight Elisabeth and I, by writing mountains of letters, to get this stallion's card released to a pony.... I don't really know why, but in between times I bought a D pony, Océane de Jaillet (by F'Secateur de Floriège and the beautiful Ketty Mayennaise by Loulou)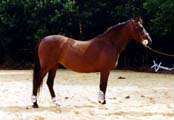 Océane du Jaillet
who I had covered once by the Anglo Arab Faritchou. This was a crossing that gave me a good and handsome D pony, Garoutchy Kernevy, which I gave to my sister and which she rode regularly at Le Mans until she moved to Amsterdam.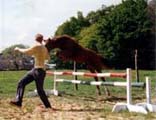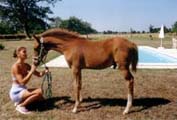 Garoutchy Kenervy
Pitchoune foaled that year to Geminy Kernevy (I des Cartes) who Jacques had kept and later sold on.  As for Cameline, she gave birth to Gunixy Kernevy (Dunixi, Ar).
Cameline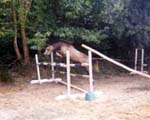 Gunixy Kernevy
Finally around this time I bought my very expensive Nickie: I was a student, didn't have a bean, and I earmarked one or two well-bred ponies a year which I bought cheaply and managed to sell on well, using the profit to take my breeding forward and to make several well-negotiated purchases such as this one. I remember very well my visit to her Breton owner and breeder at Plérin near to Guingamp, François André.
I was completely won over by the well known ace Mon Désir A (a dun gelding by the Connemara Dick), a magnificent C pony who was ridden by Caroline Nicolas and who had a collection of extraordinary performances show jumping in C1, D1, GP and CSIP: he was for me the best pony that French breeding had ever seen born.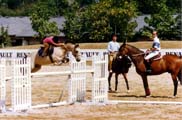 Mon désir A
I had discovered on Harasire that he had a full sister who was a broodmare, by another stallion, Islam Sparrow Kim – a Connemara at least as interesting as the sire of Mon Désir. I was at the Grande Semaine de l'Elevage and I asked my aunt who was putting me up at Fontainebleau if I could borrow her car (an Audi) to go to Brittany. It was in 1993, I was 20 years old and it was fantastic to go all the way there and back in this beautiful car in the same day, leaving at dawn and coming back very late at night, accompanied by a cassette of Italian songs played at full volume over and over again – to this day they still remind me of this jaunt.  I met Mr André, the former owner of the pony club at Plérin, now retired, and met Nickie: I have a video immortalising this moment. The pony was at least as beautiful as Mon Désir (who would have made a fantastic stallion), but full of herself (uncatchable, of course), with a very expressive movement full of energy. I decided to buy her and the deal was done (6,500 francs, I believe). I took the opportunity to cast an eye over her two year old daughter,
Dolie
, who wasn't for sale, or was too expensive for me (but who I purchased later from her next owner) and made a detour to see his other daughter Sabrina IV at a neighbour's (who I also bought later, but who I only had covered three times)… unless I went to see Sabrina on another occasion – I don't know any more, I returned to Fontainebleau that evening with my head full of dreams and I remember being told off by my aunt that morning for not having filled the car up with petrol (I couldn't find a station open at the end of my journey… or not one that suited my meagre wallet! ). Later, once Nickie was at my house and I had tested her on the lunge (again, I have a video capturing the moment) I realised what my intuition had brought me: the pony had the same genius over fences as her famous brother – despite her 15 years she was quite simply remarkable over the poles. 
I then met my future wife Valérie who was also a breeder of Français de Selle ponies in Mayenne (the d'Arby stud). In particular she owned the magnificent Clem's Own d'Arby (by Selim de Siam and Veronese A, *AA* by Dunamis, *AA*). On my advice she progressively thinned out her broodmares and then bought the beautiful and splendid Jongleuse de Cossé, the best and last broodmare of one of the fathers of the Français de Selle ponies in the Mayenne, Jules Leroyer. We recommended that he take Jongleuse to Vodka du Theil and Valérie bought her in foal to this stallion: she gave birth the following year to a su-per-b chestnut filly, Habanita La Claie, who showed spectacular jumping ability… and which Valérie sold to do dressage. Upsy Daisy foaled at my parents in the Morbihan that year, giving birth to the full brother of Galienney, Hennye Joe d'Haryns. Clem's Own d'Arby, for her part, was a mother for the first time to a bay filly descended from the first real generation of Thunder du Blin, who finally decided to suckle at half past one in the morning: Halfpastone d'Arby.
| | |
| --- | --- |
| | Halfpastone d'Arby |
Nickie II
Nickie gave birth to Hach'Desir de Florys (by the Welsh B Rotherwood Ambassador),
| | |
| --- | --- |
| | Hach'Desir de Florys |
the very first to carry the affix that my wife and I had chosen (it was the name of a Shetland that my wife rode in the countryside and we liked the sound of the name so much that we gave it, with a different spelling, to our second daughter). The idea was to obtain a small and pretty filly to replace her mother at stud one day (if the filly was more beautiful than any of Nickie's other foals, I didn't feel she was quite good enough at jumping for me, and after some good results eventing she was sold for competition).  We then decided to send Nickie to Galoubet: we therefore drove her, with d'Hach'Désir at foot, to Gênes Diffusion for insemination by the famous son of Almé (standing in the United States), transported by plane from New York to Roissy, then by car to Douai. Thankfully, Nickie became pregnant on the first attempt! I remember my student's finances being decidedly stretched at that time, and despite the generous gesture of Jean-François Pellegrin I had to borrow to pay for the covering.  Ialoubet was born.  It was in this way, in 1996, that the first D pony from Florys was born… and the best to this day. The Haras de Florys is therefore a very young stud, particularly as we only foal once or twice a year (which will be the case again this year when we anticipate only one D foal).
Nickie II

Nickie et Ialoubet
An aborted partnership with Elisabeth de Linarès
At that stage, once again, a partnership was envisaged between Elisabeth, who had her stud in the Orne, my wife and I. Several of my yearlings had spent time with Elisabeth, but the project lasted only a few months and we all continued on our separate paths. I kept Galienny, Elisabeth, Henney Joe and we arranged for Iolisca d'Harns (Olisco, Sf), the last of Upsy's line to be born at the house and from which I still have the right to a filly. It was the same some time later between wife and I (as far as breeding is concerned! ) when in 2002 Valérie simply decided to stop breeding. Some other broodmares had arrived in the Mayenne, where we were living, bought by my wife: for example the beautiful black Welsh B Perle du Verouet (by Epona Candy and Foist Bon-Bon) and the fantastic racing pony Fleurette de Moulin (by the excellent Chaton).
Nadiacha had always haunted Valérie: the C pony daughter of the fabulous Arab Dancing Duke and a remarkable winner, notably C pony Champion of France in 1985 at the age of only six! Valérie had herself used Dancing Duke several times as he had produced in only one generation, amongst others, the stars Nablirka, Nyasta du Hardrais and the pony Nez Blanc who himself jumped in a way that was completely out of the ordinary. In addition, Nadiacha had a conformation and a trout-like grey colour like Kalem that particularly seduced my wife. The last owner sold her. We went to see her near Bordeaux: she had a gorgeous chestnut foal at foot, Joga de Prat, by the Anglo-Arab Derby d'Oc.
We bought the two, as well as a handsome colt by the same sire as the filly by Vien Bien, a D1 Elite winner, who was later approved as a stallion: Joutabe de Prat. We had Nadiacha covered the following year by the Anglo-Arab Jalienny from who came the very handsome Grand Prix performance stallion
Lennicha de Florys
and the two following years by the Anglo Arab Peeping Tom from whom we had the home bred
Meeping Cha de Florys
and
Nadiacha de Florys
. I had Joga de Prat covered as a three-year-old by Naughty van Graaf Janshof and from this crossing I obtained the very good Naughtie La Claie (awesome over fences on the lunge): I later sold both mother and daughter. 
| | |
| --- | --- |
| | Naughtie La Claie |
The years of the M and the N were, in fact, the most abundant and I ended up producing too much.  In effect, sometimes just for fun, I would cover the broodmare of a breeder who particularly interested me, or a pony passing through, or perhaps a filly of two or three years old to attempt a crossing, and time to time had too much on my plate. In this way the performance stallion
Hennyblue La Claie
(by Jalienny, Aa and Stonblue des Pins, Nf by Nigthingle des Ifs), the D1 pony Harmony La Claie (by Forban de Ravary, Co and Erika du Gué / La Claie, a trotter twin covered at two-years-old…and who gave me the brave Lientos La Claie by Ialoubet),
| | |
| --- | --- |
| | Lientos la Claie |
the C1 pony Irapsody La Claie (by Eurystos de Cossé and Olympe Bonnetie by Ernford Scorpion), the famous Italian horse ball pony Italique La Claie (by Brenneville, TB and Erika Mahoud, Pfs by Adoro Al Maury, Ar and Fleurette de Moulin), the great C1 pony Koghi La Claie (by Kalem and Hautesse Of Britain, a full sister to the Welsh A stallion Gary Ofbritain), the performance stallion
Montot Nabor La Claie de Florys
(by Nabor and Idalia du Py by Le Tot de Semilly, Sf), the winner Ovolteristo La Claie (by Voltaire, Han and Tanaise by Merlin du Verouet, Wb),
Ovolteristo
de Florys

Tanaise
the stylish D1 performance stallion
Micky de Florys
(by Jalienny, Aa and Quellye, Po by Fudge du Galion, Nf), the young
Rosira de Florys
(by Rosire, Sf and Quellye, Po by Fudge du Galion, Nf), Nice and Easy Ferme (by Teake It Easy and Polka du Montmain, the dam of Caline de la Ferme) and the foal
Tweençy Own d'Arby
(by
Dexter Leam Pondi
and Queençy Own d'Arby by Kantje's Ronaldo, Nf), amongst others, were born…
After Nickie who, following Ialoubet, gave me Jimmerdor de Florys from the birth of whom she never really recovered, Why Not arrived at the stud in the autumn of 1997, making my second line. I was very proud to have a great international winner at the house, pretty, with unbelievable papers, which was rare, and a daughter of the great international performer of the day, Shining Starr Aristo: in short, impeccable references. I then went to the Netherlands where I found the full sister of Teake It Easy, who I didn't keep beyond her first two offspring in the end as she didn't quite convince me when jumping at liberty – their obvious qualities have, despite all that, driven me to negotiate one of her fillies by Kantje's Ronaldo with her buyer: in this way I got Peasyronalda La Claie back as a three year old in 2006, and she appeared sufficiently interesting to get covered by Casper before putting her out on the show jumping circuit: she died three weeks before her foaling…
| | |
| --- | --- |
| | |
Equally, I went to Germany to track down the mother of the fabulous Nabor. There I found
Nakone
and her breeder sold me the only full brother and sister of Nabor:
Noblesse de Florys
, a real gem at 8 months old, and Nantano de Florys, aged a year and a half, joined us in France at the end of 1997 in the same way. Following the death of Noblesse as a three year old I asked her breeder to cover Nakone by
Nantano
and in this way I was able to buy a full sister to Nabor,
Naborina de Florys
. Finally, I was able to buy
Nakone
herself in foal, at my request, to Constantin.  At the end of 1999, at long last, I broke the bank… or rather borrowed from the bank, in order to acquire
Bettina
, the mother of Aron, who I had flown all the way to Hamburg in North Germany to see. Much more recently, in September 2007, it was
Queen
who came to join the stud.

Back up.