A comical situation
At the time that I broke the bank, or at least went well into the red at the bank, to buy Bettina, the mother of 'Aron SL, it was Jean-Marc Lefèvre who brought the lovely lady back from Germany. I was meant to pay Monsieur Thoroe, who has unfortunately since passed away, in cash, and Jean-Marc went off with an A4 envelope crammed with bank notes. He arrived on a particularly windy afternoon: not far from, in all honesty, storm-force. Arriving at the stud after several long hours on the road, he got out of his car, envelope in his hand: the envelope wasn't sealed and, having been upended, the majority of the notes scattered to the winds, blown about in all directions. A distraught Jean-Marc – it is he who told me this story – ran around all over the place trying to retrieve the money. Ten minutes later, the accounting done, he was still missing a 500 euro note.  After half an hour of desperate searching in every corner of the stud, before the wide eyes of the Germans who didn't speak a word of English and who had no idea what Jean-Marc was up to, the note was found in the corner of a hanger, half squashed under the wheel of a tractor. Funny, eh?
And why not the Haras d'Hermance?
My first daughter, eldest sister of my little Florrisse, has never understood why my ponies are called 'de Florys' and not 'd'Hermance'. It's really too unfair.
The cursed Caspar!
The first year Casper was standing, in 2005, I had driven Bettina and Citadelle du Buhot to him near to Lisieux. The first remained barren and the second, coming back in foal, died two months after returning to stud. The following year, standing near to Vannes and not too far from me, hardly any of the first mares that were sent to him were in foal and I was unable to send him certain of my mares as I had planned. Sent to Georges Lecomte before summer in order to treat the germs in his testicles, he succeeded in putting all the mares he served at the end of summer in foal. I therefore decided to send him, exceptionally, a three year old, Peasyronalda La Claie, who fell in foal at the first attempt, but she died the following year three weeks from foaling. Discouraged by my misfortune with this stallion I acquired one of his two year old daughters in the Netherlands, of which the dam Kantje's Soraya is a daughter of Kantje's Ronaldo SL and of Judy, one of the best Dutch New Forest broodmares and dam of the famous international performer Rusty:  the filly wasn't quite all I'd hoped for and I returned in 2007, at the time of Casper's third year at stud, to Georges Lecompte near Orbec, where I represented Bettina, who became pregnant with twins who were stuck together, and having had no choice but to abort them, she did not fall back in foal. In 2008, still determined... I once again sent him Bettina, Dolie and Lillipop de Nomad (a Welsh lent by a friend): Bettina fell in foal twice, and twice aborted, Lillipop fell in foal once and aborted without falling in foal afterwards (other than Roanldo later) and Dolie didn't take at all.  A real curse!
« Glacias »
Laughter on hearing my daughter Hermance ask me, before we left for the CSIOP at Fredenberg in 2007 "How will Imanage there when I don't speak German?" "Me neither, I don't speak German" I replied.  "But yes you do, I heard you speak German in Cuba.  Me, I only know how to say 'Glacias' " !!!
THE Photo
What a job – how could I not have chosen a double page of photos to illustrate the Horse Série de l'Elevage 1999 of l'Eperon magazine, the marvellous Nabor at the European Championships at Hasselt in 1993, captured by the Belgian photographer Dirk Caremans? This photo, where the little grey looked just like the champion of the 1984 Los Angeles Olympics, the Trakhener stallion Abdullah, assured the launch of the son of Nantano which enabled him to cover some really good mares in his first (and last) year standing in France for several years after the publication – and even before. From these crossings were born Quabar des Monceaux, supreme champion of French riding ponies (PFS) in 2007, Mad du Bosc, Grand Prix performance stallion, Quoutsous, promising young stallion etc.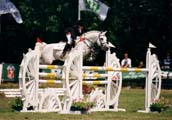 An unwanted Carywn
It's no secret. I'm not a big fan of Machno Carwyn as a stallion – although as a sportsman he is more than remarkable. When I bought Cannache in Belgium she was first of all to be covered via IAC by Kantje's Ronaldo SL at Joris de Brabander's and was to come back to me once she was in foal. I was in regular contact with Joris to remain up to speed with the pony's seasons and her foaling schedule – the seller not speaking a word of French. The pony was not in foal at the first attempt, nor at the second… I finished by calling Joris who said "Ah, I meant to call you… there has been an accident with the pony". "That's it" I immediately said to myself, '"She's dead". "Here it is", she continued, "She was inseminated more than 15 days ago and at that time there were two other ponies to inseminate by Machno Carwyn and it was one of my assistants who was taking care of things. However, in the evening, when I was counting the straws I was missing one of Carwyn's and there was one too many of Ronaldo's which hadn't moved. And yesterday your pony was scanned in foal. So, there you go, I'm sorry, it's my fault. I won't let you pay for anything, the covering and the insemination fees" "It's very kind of you Joris" I quickly replied, "but I absolutely do not want any Carwyn's at mine and I would like to have a daughter of Ronaldo as quickly as possible and hope to start a line with her. I would therefore prefer to abort Cannache and start again". I was well aware that she was not at all comfortable with this. "Listen, you know, the seller is an elderly breeder", she retorted. "He has been backwards and forwards 8 times, 50 km each time, to drive the pony to me, he would be over the moon if she was in foal at last, so if I tell him what's happened and that you have decided to abort to start afresh, I don't think he'll take it very well". My negotiation had already been very laborious with the seller, due to more than a few difficulties in communicating, so I resigned myself to returning with Cannache in foal to Carwyn!
So close to a European podium place
At Avenches in Switzerland where
Jimmerdor de Florys SL
was taking part at the European Championships for the 4th time, but for the 1st time with Baptiste Lecomte who was only just 13-years-old, the pony had two faults (and a time fault making 9 faults in total) at the double in the first round, the last but one fence of the course. With these 9 faults which were added to the total of 10 from the three previous rounds, and thanks to their clear in the second individual round, the couple finished in 11th place with 19 faults over the 5 rounds. His coach and mother Cathy Olivier-Lecomte was furious with herself for letting herself be influenced by the categoric advice of certain influential people in the French team entourage about the striding between the spa and the famous double: having been convinced at the outset that there were 6 strides for Jimmerdor, she went for 7 strides… from which, she will assure you, the two faults. Without these 8 faults, the couple would have finished the Championships with 11 faults…on the 3rd step of the podium behind George Whitaker (The Colour of Money), 5 faults, and Maurice Tebbel (Giovanni), 9 points!
| | |
| --- | --- |
| | |
| Photo : Foto-Job.com | Photo : Maud Le Bel |

Back up.